Interprofessional Collaboration: Kewajiban dalam Pelayanan Kesehatan
Abstract
Abstrak:
LATAR BELAKANG: Penerapan interprofessional collaboration sendiri diyakini banyak memberikan dampak positif terhadap efektifitas dan efisiensi pelayanan kesehatan.
TUJUAN: Pada artikel ini akan membahas dampak dari pelaksanan interprofessional collaboration hingga faktor penghambat keberhasilan interprofessional collaboration.
METODE: Metode yang digunakan adalah review artikel ilmiah.
HASIL: Hasilnya, ditemukan berbagai signifikansi terhadap dampak positif pada pelaynan kesehatan. Faktor penghambat dalam pelaksanaan interprofessional collaboration dikelompokkan ke dalam tiga kategori, yaitu hambatan pada individu, lingkungan kerja dan hambatan pada lingkup sistem.
 
Kata Kunci : Interprofessional Collaboration, Pelayanan Kesehatan
Abstract
BACKGROUND The application of interprofessional collaboration itself is believed to have many positive impacts on the effectiveness and efficiency of health services.
OBJECTIVE In this article, we will discuss the impact of implementing interprofessional collaboration to reward the success of interprofessional collaboration.
METHODS The method used is a review of scientific articles. Â 
RESULTS The result, found a variety of significance for the positive impact on health services. Inhibiting factors in the implementation of interprofessional collaboration are grouped into three categories, namely obstacles in the individual, work environment and obstacles in the scope of the system.
 
Keywords : Interprofessional Collaboration, Health Service
References
Blok, Franka; van Meerkerk, I.F; Molenveld, A. (2018). Overcoming barriers to multidisciplinary collaboration in healthcare. Erasmus University Rotterdam.
Buscemi, J., Steglitz, J., & Spring, B. (2012). The impact of team science collaborations in health care: A synopsis and comment on "Interprofessional collaboration: Effects of practice-based interventions on professional practice and healthcare outcomes". Translational behavioral medicine, 2(4), 378-379. https://doi.org/10.1007/s13142-012-0169-9
Canadian Alliance for Sustainable Health Care. 2012. Improving Primary Health Care Through Collaboration: Briefing 2 – Ocotober (2012: Canada)
Coleman, M. T., McLean, A., Williams, L. K., & Hasan, K. (2017). Improvement in interprofessional student learning and patient outcomes. Journal of Interprofessional Education and Practice, 8, 28–33. https://doi.org/10.1016/j.xjep.2017.05.003
Drummond, N., K. Abbott, T. Williamson, and
B. Somji. "Interprofessional Primary Care in Academic Family Medicine Clinics." Canadian Family Physician 58, no. 8 (2012): e450–58.
Dubois, C.-A., and D. Singh. "From Staff-Mix to Skill- Mix and Beyond: Towards a Systemic Approach to Health Workforce Management." Human Resources
for Health 7 (2009): 87.
Franklin, C. M., Bernhardt, J. M., Lopez, R. P., Long-Middleton, E. R., & Davis, S. (2015). Interprofessional Teamwork and Collaboration Between Community Health Workers and Healthcare Teams: An Integrative Review. Health Services Research and Managerial Epidemiology, 1–9. https://doi.org/10.1177/2333392815573312
Graves, M., & Doucet, S. (2016). Factors Affecting Interprofessional Collaboration When Communicating through the Use of Information and Communication Technologies : A Literature Review. Journal of Research in Interprofessional Practice and Education, 6.2, 1–33.
Gaboury I, Bujold M, Boon H, Moher D. Interpro- fessional collaboration within Canadian integrative healthcare clinics: key components. Soc Sci Med. 2009; 69(5):707–715.
Gotlib Conn, L., I.F. Oandasan, C. Creede, D. Jakubovicz, and L. Wilson. "Creating Sustainable Change in the Interprofessional Academic Family Practice Setting: An Appreciative Inquiry Approach." Journal of Research in Interprofessional Practice and Education 1, no. 3 (2010).
Green, B. N., & Johnson, C. D. (2015). Interprofessional collaboration in research, education, and clinical practice: working together for a better future. J Chiropr Education, 29(1), 1–10. https://doi.org/10.7899/JCE-14-36
Hansen MT. Collaboration: How Leaders Avoid the Traps, Create Unity, and Reap Big Results. Boston, MA: Harvard Business Press; 2009:xi, 231.
Institute of Medicine (US). Global Forum on Innovation in Health Professional Education. Workshop. (2012: Washington DC).
Orchard, Carole., King, Gillian., Khalili, Hossein., & Bexxina, Mary. (2012). Assessment of Interprofessional Team Collaboration Scale (AITCS): Development and Testing of the Instrument. Journal of Continuing Education in the Health Professions. 32(1);58-67. 10.1002/chp.21123
Priyadarshanie, R. A. D. R., Sudasinghe, S. R. S. N., & Wedage, D. E. (2017). Impact of the Quality of Non-Clinical Services on Patients ' Satisfaction : A Study of Colombo South Teaching Hospital , Sri Lanka Impact of the Quality of Non-Clinical Services o n Patients ' Satisfaction : A Study of.
Savitch, A. (2016). Difference between Clinical and Non-Clinical Medical Jobs. http://www.hcarejobs.com
The College of Family Physicians of Canada. CFPC Vision Statement on Inter-Professional Care. www2.cfpc.ca/local/files/Communications/Health% 20Policy/CFPC-CNA%20Vision%20ENG.pdf (accessed August 10, 2012).
vanRijnsoever FJ, Hessels LK. Factors associated with disciplinary and interdisciplinary research collabora- tion. Res Policy. 2011;40(3):463–472.
Weller J, Boyd M, Cumin D. Postgrad Med J 2014;90:149–154.
Working Group on Primary Care Governance and Organization. Strengthening Primary Care Organization & Governance. 2011. www.trilliumresearchday.com/ documents/2012_PHPG_Governance-WG-Report_ Final.pdf (accessed September 26, 2012).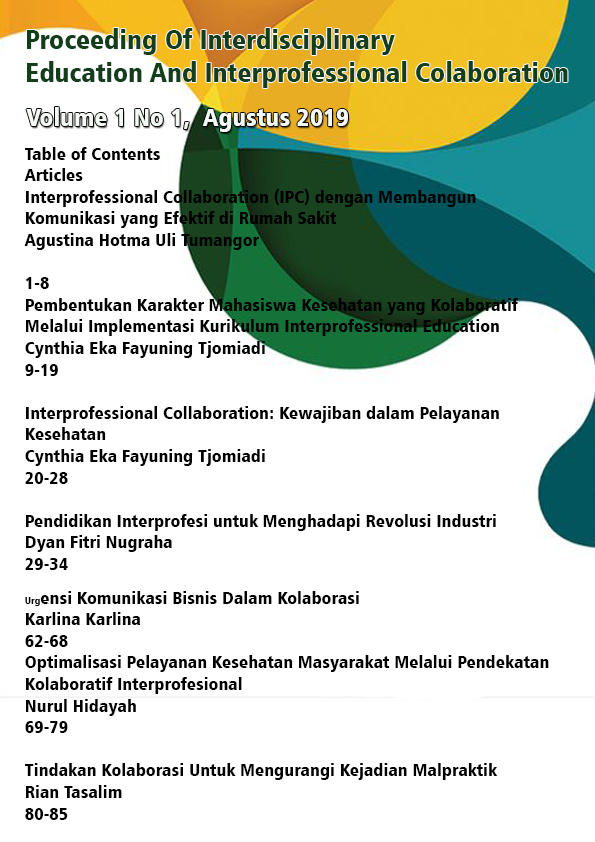 License
Authors retain copyright and grant the journal right of first publication with the work simultaneously licensed under a 
Creative Commons Attribution 4.0 International License
 that allows others to share the work with an acknowledgment of the work's authorship and initial publication in this journal.