Pendidikan Interprofesi untuk Menghadapi Revolusi Industri
Abstract
Abstrak:
LATAR BELAKANG: Revolusi Industri merupakan suatu langkah efisiensi dalam koridor produksi. Namun di satu sisi, kekhawatiran mengenai hilangnya pekerjaan akibat perkembangan teknologi menjadi satu hal yang tidak dapat diabaikan.
TUJUAN: Penelitian ini bertujuan untuk menganalisis karakter yang dibutuhkan individu untuk menghadapi era Revolusi Industri 4.0.
METODE: Penelitian menggunakan metode telaah pustaka non sistemik dari berbagai sumber seperti jurnal, data base, buku, ataupun mesin pencari.
HASIL: Hasil penelitian ini menunjukkan bahwa Interprofessional Education-Interprofessional Collaboration dapat menjadi salah satu faktor pemicu terciptanya individu inovatif dan sarat ide.
 
Kata Kunci : Interprofessional Education- Interprofessional Collaboration, Revolusi Industri
Abstract
BACKGROUND The Industrial Revolution is an efficiency step within a production corridor. But on the other hand, concerns about loss of employment due to technological developments are one thing that cannot be ignored.
OBJECTIVE This study aims to analyze the character needed by individuals to face the era of the Industrial Revolution 4.0.
METHODS Research uses non-systemic review methods from various sources such as journals, databases, books, or search engines.
RESULTS The results of this study indicate that Interprofessional Education-Interprofessional Collaboration are able to be one of the trigger factors for a creation of individuals who have innovative and full ideas.
 
Keywords
:
Interprofessional Education- Interprofessional Collaboration, Industrial Revolution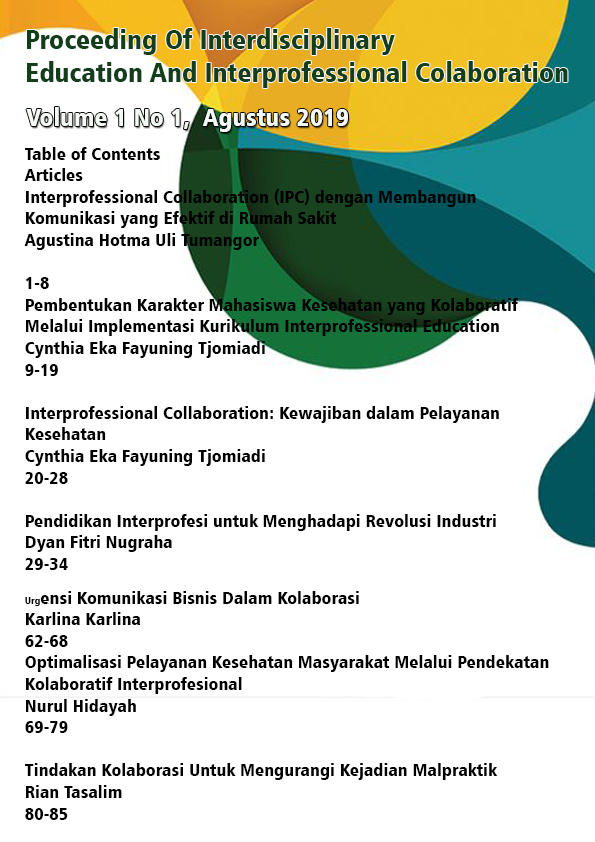 Downloads
License
Authors retain copyright and grant the journal right of first publication with the work simultaneously licensed under a 
Creative Commons Attribution 4.0 International License
 that allows others to share the work with an acknowledgment of the work's authorship and initial publication in this journal.