Optimalisasi Pelayanan Kesehatan Masyarakat Melalui Pendekatan Kolaboratif Interprofesional
Abstract
Abstrak
 
LATAR BELAKANG Pelayanan kesehatan masyarakat selama ini selalu mengalami kendala dan hambatan. Hal tersebut dapat muncul dari berbagai aspek dan sektor. Salah satu upaya untuk mencapai keberhasilan program dalam memberikan pelayanan kesehatan kepada masyarakat antara lain dengan melakukan kolaborasi dengan berbagai profesi.
TUJUAN mengkaji bentuk dan manfaat atau dampak positif apasaja yang dapat diperoleh ketika melakukan pelayanan kesehatan masyarakat yang berkolaborasi dengan berbagai profesi dan lintas sektor, serta bagaimana tata kelola kolaborasi tersebut dari sudut pandang tenaga kesehatan masyarakat.
METODE metode kepustakaan yang merupakan metode penulisan menggunakan buku dan jurnal sebagai sumber informasi. Dari data yang telah dikumpulkan, kemudian diproses menjadi sebuah tulisan yang sistematis sehingga dapat lebih mudah dimengerti.
HASIL Kolaborasi dalam memberikan pelayanan kesehatan dapat memberikan berbagai manfaat dengan mengacu pada domain kompetensi dalam berkolaborasi seperti nilai/etika untuk praktik interprofesional, peran dan tanggung jawab, komunikasi interprofesional, dan tim dan kerjasama tim.
KESIMPULAN layanan kesehatan masyarakat yang dilakukan secara kolaborasi dengan berbagai profesi memberikan berbagai manfaat sesuai dengan inti kompetensi masing-masing profesi tersebut. Semua itu agar dapat memberikan pelayanan yang optimal dan berkualitas sehingga dapat meningkatkan derajat kesehatan masyarakat.
 
Kata Kunci : Kesehatan Masyarakat, Kolaborasi, Inter-professional
 
Abstract
 
BACKGROUND Public health services have always experienced constraints and obstacles. This can arise from various aspects and sectors. One effort to achieve program success in providing health services to the community is by collaborating with various professions.
OBJECTIVE Examine the forms and benefits or positive impacts that can be obtained when conducting public health services in collaboration with various professions and across sectors, as well as how to manage such collaborations from the point of view of community health workers.
METHODS library method which is a writing method using books and journals as a source of information. From the data that has been collected, then processed into a systematic writing so that it can be more easily understood.
RESULTS Collaboration in providing health services can provide various benefits by referring to the domain of competence in collaboration such as values / ethics for inter-professional practice, roles and responsibilities, inter-professional communication, and team and team collaboration.
CONCLUSION Public health services in collaboration with various professions provide various benefits in accordance with the core competencies of each of these professions. All of that in order to provide optimal and quality services so as to improve the degree of public health.
 
Keywords: Public health, collaboration, inter-professional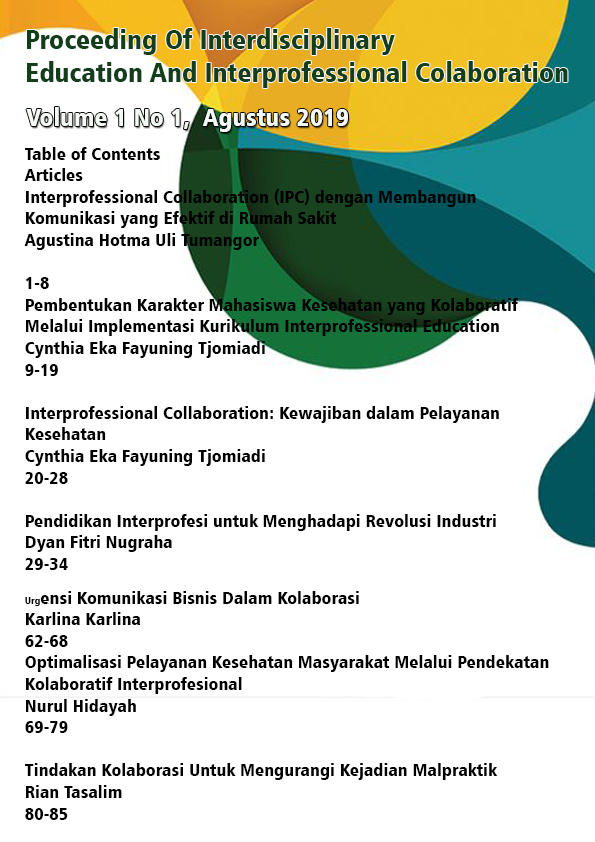 License
Authors retain copyright and grant the journal right of first publication with the work simultaneously licensed under a 
Creative Commons Attribution 4.0 International License
 that allows others to share the work with an acknowledgment of the work's authorship and initial publication in this journal.