Urgensi Komunikasi Bisnis Dalam Kolaborasi
Abstract
Abstrak
LATAR BELAKANG Pentingnya aspek komunikasi dalam dunia kerja bisnis menjadi alasan kuat untuk memenuhi aspek komunikasi bisnis dalam dunia pendidikan, terlebih bagi pendidikan akuntansi. Perkembangan tekhnologi yang pesat menuntut lulusan memiliki kemampuan softskill untuk dapat berkerjasama (kolaborasi), sehingga diperlukan pendekatan atau metode yang tepat agar komunikasi dapat ditingkatkan.
TUJUAN Penelitian ini bertujuan untuk mengetahui urgensi dari komunikasi bisnis yang berkaitan dengan kolaborasi, serta menganalisis cara atau metode yang dapat digunakan untuk meningkatkan komunikasi..
METODE Penelitian menggunakan metode telaah pustaka non sistemik dari berbagai sumber seperti jurnal, data base, buku, ataupun mesin pencari.
HASIL Hasil penelitian ini menunjukkan bahwa komunikasi bisnis memiliki peranan penting dalam membentuk kerjasama tim atau kolaborasi, dan terdapat beberapa cara untuk meningkatkan kemampuan pada aspek komunikasi bisnis, salah satunya dengan Pendekatan Interprofessional Education-Interprofessional Collaboration.
 
Kata Kunci : Bisnis Communication- Collaboration, non-systemic review.
 
Abstract
BACKGROUND The Importance of communication aspects in the working world of business sector is strong reason to fulfill of business communication aspects in education context, especially for accounting education. The rapid development of technology requires the graduates to have soft skills to be able to collaborate. Furthermore, the suitable approach or method is needed to improve communication.
OBJECTIVE This study aims to find out the urgency of business communication which is related to collaboration. Moreover, it also analyzes the ways or methods that can be used to improve communication.
METHODS This study used non-systemic review methods by using various sources such as journals, databases, books, or search engines.
RESULTS the research findings showed that business communication has an important role in team work or collaboration. Moreover, there are certain ways to improve business communication skill, one of approaches that can be used is Inter-professional Education with Inter-professional Collaboration Approach.
 
Keywords :
Business Communication- Collaboration, non-systemic review.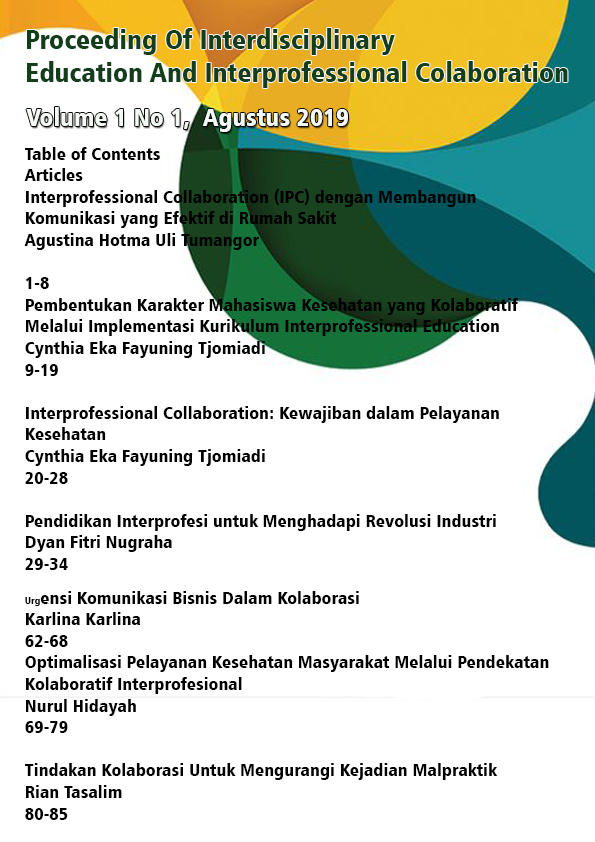 License
Authors retain copyright and grant the journal right of first publication with the work simultaneously licensed under a 
Creative Commons Attribution 4.0 International License
 that allows others to share the work with an acknowledgment of the work's authorship and initial publication in this journal.