Interprofessional Collaboration (IPC) dengan Membangun Komunikasi yang Efektif di Rumah Sakit
Abstract
Abstrak:
LATAR BELAKANG: Pelayanan kesehatan yang bermutu melibatkan kolaborasi maksimal antar profesi. Salah satu komponen utama yang ada dalam kolaborasi adalah kemampuan komunikasi efektif.
TUJUAN: Mengetahui Interprofessional Collaboration (IPC) di Rumah Sakit dengan membangun komunikasi yang efektif dalam peningkatkan kualitas pelayanan.
METODE: Metode penelitian Literature review ini dilakukan dengan melakukan penelusuran artikel publikasi pada Google Scholar dengan kata kunci yang dipilih yaitu Interprofessional Collaboration. Penelusuran dilakukan dengan membatasi terbitan dari Tahun 2000 - 2017.
HASIL: Kualitas layanan yang baik tergantung pada profesional yang bekerja sama dalam tim interprofessional dengan komunikasi interprofesional.
 
Kata Kunci : Komunikasi Efektif, Kualitas Pelayanan, Interprofessional Communication
 
Abstract:
BACKGROUND: High quality health services involve maximum collaboration between professions. One of the main components in collaboration is effective communication skills
OBJECTIVE: The purpose of this Literature review research is to find out Interprofessional Collaboration (IPC) in Hospitals by building effective communication in improving service quality.
METHODS: Literature review is carried out by searching for publication articles on Google Scholar with selected keywords, Interprofessional Collaboration. Search was carried out by limiting issues from 2000 - 2017.
RESULTS: Good service quality depends on professionals who work together in interprofessional teams with interprofessional communication.
 
Keywords: Effective Communication, Service Quality, Interprofessional Communication
References
Anggarawati, Tuti, Wulan Sari, N, 2016. Kepentingan Bersama Perawat - Dokter dengan Kualitas Pelayanan Ke- perawatan. Jurnal Ilmiah Kesehatan Keperawatan. Vol. 12, No. 1. Februari 2016
Arya Reni, Kurniawan Yudianto, Irman Somantri. 2010. Efektifitas Pelaksanaan Komu- nikasi dalam Kolaborasi Antara Perawat dan Dokter di Ruang Rawat Inap Rumah Sakit Umum Sumedang. Jurnal unpad.ac.id/mku/article. Vol. 12, No. 1 Maret 2010–September 2010 Hal 36,
Coster, S., 2008. Interprofessional Attitudes Amongst Undergraduate Students In The Health Professions: A Longitudinal Questionnaire Survey. International Journal of Nursing Studies[serial online] [cited 2016 september 28] :45 (2008); 1667–1681. Available from: URL :HTTP://www.elsevier.com/ijns
Ker, J. Mole, L. Bradley, P. 2003. Early Introduction to Interprofessional Learning: A Simulated Ward Environment. Medical Education, 37:248–255
Komisi Akreditasi Rumah Sakit. (2012). Panduan Penyusunan Dokumen Akreditasi. 2012.
Kusumaningrum, P dan Anggorowati. 2018. Interprofesional Education (IPE) Sebagai Upaya Membangun Kemampuan Perawat Dalam Berkolaborasi Dengan Tenaga Kesehatan Lain. Jurnal Kepimpinan dan Manajemen Keperawatan. Vol. 1, No. 1. Hal. 14-19.
Lestari, Y., Saleh A., Pasinringi S., 2017, Hubungan Interprofesional Kolaborasi Dengan Pelaksanaan Catatan Perkembangan Pasien Terintegrasi di RSUD Prof. DR. H.M. Anwar Makkatutu Kabupaten Banteang, JST Kesehatan, Vol. 1, Hal. 85-90
Mitchell,PH, Crittenden, RA. 2000. Interdiciplinarry Collaboration : old ideas with new urgency. Washington Publik Health Organization.
Pohan I. (2015). Jaminan mutu Layanan Kesehatan : Dasar-dasar Pengertian dan Penerapan. EGC: Jakarta.
Rokhmah, N dan Anggorowati. 2017. Komunikasi Efektif Dalam Praktek Kolaborasi Interprofesi Sebagai Upaya Meningkatkan Kualitas Pelayanan. Journal of Health Studie. Vol.1. No.1. Hal. 65-71.
WHO. 2010. Framework for Action on Interprofesional Education & Collaborative Practice. World Health Organization. Geneva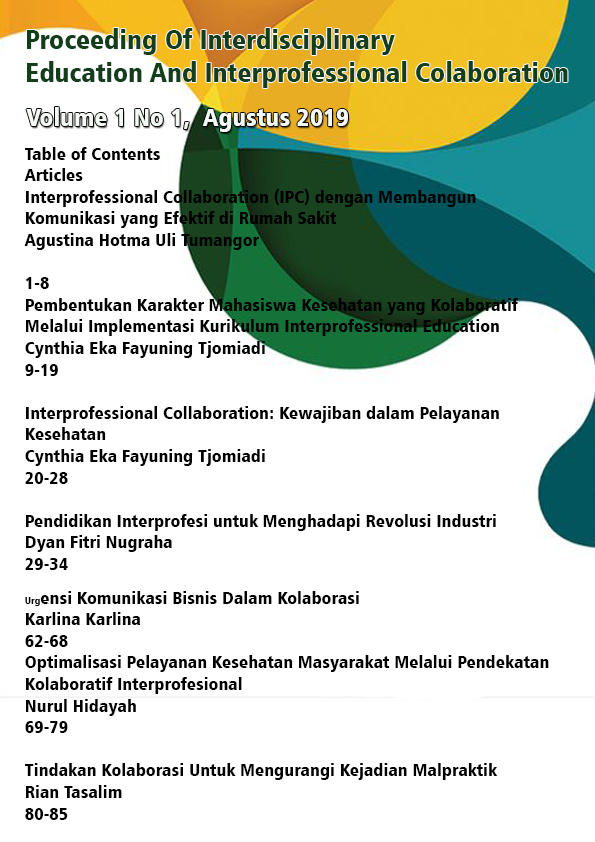 Downloads
License
Authors retain copyright and grant the journal right of first publication with the work simultaneously licensed under a 
Creative Commons Attribution 4.0 International License
 that allows others to share the work with an acknowledgment of the work's authorship and initial publication in this journal.