Tindakan Kolaborasi Untuk Mengurangi Kejadian Malpraktik
Abstract
Abstrak:
LATAR BELAKANG: Malpraktik merupakan kelalaian yang dilakukan oleh tenaga profesional. Salah satu penyebab terjadinya malpraktik adalah akibat kurangnya ketelitian petugas medis. Kemampuan kolaborasi dengan komunikasi efektif diyakini dapat menekan kejadian malpraktik.
TUJUAN: Pada artikel ini akan membahas dampak perlunya kolaborasi untuk mengurangi kejadian malpraktik.
METODE: Metode yang digunakan adalah review artikel ilmiah.
HASIL: Hasilnya, kejadian malpraktik dapat ditekan melalui kerjasama lintas profesi baik profesi kesehatan dan non-kesehatan.
 
Abstract
BACKGROUND: Malpractice is negligence committed by health professionals. One of the causes of malpractice is due to lack of medical care. The ability to collaborate with effective communication is believed can reduce the incidence of malpractice.
OBJECTIVE: This article will discuss the impact of the need for collaboration to reduce the incidence of malpractice.
METHODS: The method used is a review of scientific articles.
RESULTS: The incidence of malpractice can be suppressed through cross-profession collaboration both health and non-health professions.
 
Kata Kunci: Collaboration, Malpratice, Medical Error
References
Brock, D. M., Nicholson, J. G., & Hooker, R. S. (2017). Physician assistant and nurse practitioner malpractice trends. Medical Care Research and Review, 74(5), 613-624.
Chen, K. Y., Yang, C. M., Tsai, S. H., Chiou, H. Y., Lin, M. R., & Chiu, W. T. (2012). Medical malpractice in Taiwan: injury types, compensation, and specialty risk. Academic emergency medicine, 19(5), 598-600.
Green, B. N., & Johnson, C. D. (2015). Interprofessional collaboration in research, education, and clinical practice: working together for a better future. Journal of Chiropractic Education, 29(1), 1-10.
Hardisman. (2012). Opini Masyarakat Tentang Malpraktik Kedokteran. Majalah Kedokteran Andalas, 1(36), 74-86.
Heryanto, B. (2010). Malpraktik Dokter dalam Perspektif Hukum. Jurnal Dinamika Hukum, 10(2), 183-191.
Kusumaningrum, P. R., & Anggorowati, A. (2018). Interprofesional Education (IPE) Sebagai Upaya Membangun Kemampuan Perawat Dalam Berkolaborasi Dengan Tenaga Kesehatan Lain. Jurnal Kepemimpinan dan Manajemen Keperawatan, 1(1), 14-19.
Larson, K., & Elliott, R. (2010). The emotional impact of malpractice. Nephrology Nursing Journal, 37(2), 153-156.
Manias, E. (2018). Effects of interdisciplinary collaboration in hospitals on medication errors: an integrative review. Expert opinion on drug safety, 17(3), 259-275.
Parker, M. S. (2015). Interprofessional Collaborative Approaches to Reduce Risk, Decrease Financial Loss, and Improve Patient Care Outcomes in Acute Care and Skilled Nursing Facilities.
Parks-Savage, A., Archer, L., Newton, H., Wheeler, E., & Huband, S. R. (2018). Prevention of medical errors and malpractice: Is creating resilience in physicians part of the answer?. International journal of law and psychiatry, 60, 35-39.
Pawlson, L. G., & O'Kane, M. E. (2004). Malpractice prevention, patient safety, and quality of care: a critical linkage. Am J Manag Care, 10(4), 281-4.
Sullivan, M., Kiovsky, R. D., Mason, D. J., Hill, C. D., & Dukes, C. (2015). Interprofessional collaboration and education. AJN The American Journal of Nursing, 115(3), 47-54.
Swensen, S., Kabcenell, A., & Shanafelt, T. (2016). Physician-organization collaboration reduces physician burnout and promotes engagement: the Mayo Clinic experience. Journal of Healthcare Management, 61(2), 105-127.
Utami, L., Hapsari, S., & Widyandana, W. (2017). Hubungan Antara Sikap dan Perilaku Kolaborasi dan Praktik Kolaborasi Interprofesional di Ruang Rawat Inap Rumah Sakit Panti Rapih. Jurnal Keperawatan Muhammadiyah, 1(2), 28-38.
Vozikis, A., Riga, M., & Pollalis, Y. (2016). Medical malpractice risk factors: An economic perspective of closed claims experience. J Health Med Econ, 2, 12.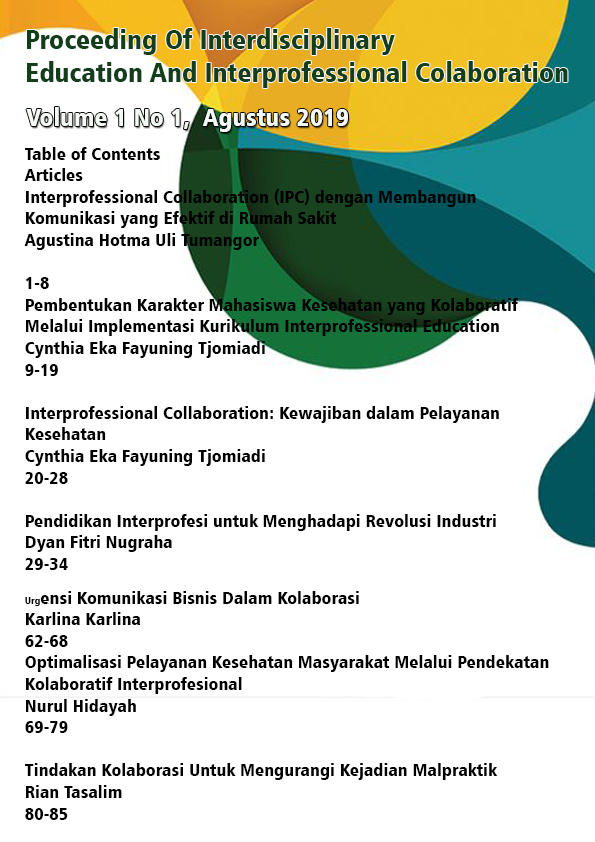 License
Authors retain copyright and grant the journal right of first publication with the work simultaneously licensed under a 
Creative Commons Attribution 4.0 International License
 that allows others to share the work with an acknowledgment of the work's authorship and initial publication in this journal.