PENGALAMAN KELUARGA DALAM PENERIMAAN ANGGOTA KELUARGA DENGAN GANGGUAN JIWA: LITERATURE REVIEW
Keywords:
Experience, Family, Mental Disorders
Abstract
Latar Belakang: Penerimaan keluarga merupakan tolak ukur dalam menunjang kesembuhan anggota keluarga dengan gangguan jiwa sebab keluarga menjadi suatu sistem pendukung dalam proses pengobatan, perawatan maupun pemulihan, akan tetapi fakta yang didapatkan berbanding terbalik dengan kenyataan yaitu masih banyak keluarga yang menolak anggota keluarga yang mengalami gangguan jiwa dengan berbagai alasan diantaranya keluarga menganggap orang dnegan gangguan jiwa merupakan aib yang harus dihindari bahkan diisolasi, hal tersebut sangat mempengaruhi proses pengobatan, perawatan dan pemulihan..
Tujuan: Penelitian ini bertujuan untuk mengetahui bagaimanakah pengalaman keluarga dalam penerimaan anggota keluarga dengan gangguan jiwa
Metode: Penelitian ini menggunkan metode literature review.
Hasil: 20 jurnal yang ditemukan, ada 2 jurnal menyebutkan bahwa keluarga menerima dengan baik angota keluarga dengan gangguan jiwakarena keluarga memiliki pengetahuan yang baik mengenai gangguan jiwa dan 15 jurnal menyebutkan bahwa keluarga tidak menerima dengan baik anggota keluarga dengan gangguan jiwa yang disebabkan oleh beberapa faktor antara lain stigma, pengetahuan, beban emosional, beban ekonomi
Kesimpulan: Stigma, pengetahuan, beban emosional dan beban ekonomi masih menjadi faktor utama yang mempengaruhi penerimaan keluarga terhadap anggota keluarga dengan gangguan jiwa sehingga membutuhkan kontribusi dan kerjasama antara pelayanan kesehatan, masyarakat maupun keluarga dalam mendukung pengobatan, perawatan maupun pemulihan orang dengan gangguan jiwa.
 
Background: Family acceptance is a benchmark in supporting the recovery of family members who experience mental disorders because the family becomes a support system in the process of treatment, care or recovery, but the facts obtained are inversely proportional to the understanding that there are still many families who reject family members with disorders The soul for various reasons including, the family considers people with mental disorders to be a disgrace that must be avoided and even isolated, this greatly affects the process of treatment, care and recovery.
Purpose: This study aims to see how the family experience in accepting family members with mental disorders.
Method: This study uses the literature review method.
Results: 20 journals were found, there were 2 journals which stated that families who received both family members with mental disorders had good knowledge about mental disorders and 15 journals stated that families who did not accept family members with mental disorders were caused by several other Stigma factors, knowledge, emotional burden, economic burden.
Conclusion: Stigma, knowledge, emotional burdens and economic burdens are still the main factors affecting family acceptance of family members with mental disorders so that it requires contribution and cooperation between health services, community or family in supporting the treatment, care or recovery of people with mental disorders.
References
Ahmad, Masnaeni, Zulhaini Sartika A. Pulungan, H. 2019. Psikoedukasi Meningkatan Peran Keluarga Dalam Merawat Artikel Pyschoeducation Enhances Family Roles in Caring Clients With Mental Disorders. Jurnal Keperawatan, 11(3), 191–198.

Aiyub. 2018. Stigmatisasi pada Penderita Gangguan Jiwa: Berjuang Melawan Stigma dalam Upaya Mencapai Tujuan Hidup untuk Kualitas Hidup yang Lebih Baik. Idea Nursing Journal, IX(1), 1–8. Retrieved from http://jurnal.unsyiah.ac.id/INJ/article/view/12275

Al-HadiHasan, A., Callaghan, P., & Lymn, J. S. 2017. Qualitative process evaluation of apsycho-educational intervention targeted at people diagnosed with schizophrenia and their primary caregivers in Jordan. BMC Psychiatry, 17(1) ,1–17. https://doi.org/10.1186/s12888-017-1225-2

Banjarmasin Post. 2019 29 Juni.Puluhan Mantan Pasien RSJ Tak Bisa Pulang. Hal 7 (kol 4-7)

Candra, L. I. A. Wi., & Kartika, H. Y. 2019. Proses penerimaan anggota keluarga orang dengan skizofrenia. Jurnal Psikologi Udayana, 89–102. Retrieved from https://ojs.unud.ac.id/index.php/psikologi/article/view/47153

Daulima, N. H. C., Rasmawati, R., & Wardani, I. Y. 2019. Penurunan Kemampuan Kepala Keluarga Dalam Memenuhi Kebutuhan Ekonomi Keluarga: Studi Fenomenologi Pengalaman Orang Dengan Gangguan Jiwa Paska Pasung. Jurnal Keperawatan Indonesia, 22(2), 139–146. https://doi.org/10.7454/jki.v22i2.873

Farkhah, L., & Suryani, S. 2017. Faktor Caregiver dan Kekambuhan Klien Skizofrenia. Jurnal Keperawatan Padjadjaran, 5(1), 37–46. https://doi.org/10.24198/jkp.v5n1.5

Fatma, D., & Arsyad, M. 2018. Pengalaman Keluarga dalam Merawat Penderita Gangguan Jiwa yang Menjalani Pengobatan di Bukittinggi : Hermeneutic Phenomenology Study. 14(1), 38–45.

Herdiyanto, Y. K., Tobing, D. H., & Vembriati, N. 2017. Stigma Terhadap Orang Dengan Gangguan Jiwa Di Bali. INQUIRY: Jurnal Ilmiah Psikologi, 8(2), 121–132.

Laksmi, W. C., & Herdiyanto, Y. K. 2019. Proses Penerimaan Anggota Keluarga Dengan Skizofrenia. Jurnal Psikologi Udayana, 89-102.

Muhlisin, A., & Pratiwi, A. 2015. Model pelayanan kesehatan berbasis partisipasi masyarakat untuk meningkatkan pelayanan kesehatan jiwa pada masyarakat setempat. The 2nd University Research Coloquium 2015, ISSN 2407-(2005), 172–179.

Nasriati, R. 2017. Stigma Dan Dukungan Keluarga Dalam Merawat Orang Dengan Gangguan Jiwa (ODGJ). Jurnal Ilmiah Ilmu - Ilmu Kesehatan, 15(1), 56–65. Retrieved from Jurnalnasional.ump.ac.id/index.php/medisains/article/download/1628/1391

Nihayati, H. E., Mukhalladah, D. A., & Krisnana, I. K. 2016. Pengalaman Keluarga Merawat Klien Gangguan Jiwa Pasca Pasung. Jurnal NERS, 11(2), 283. https://doi.org/10.20473/jn.v11i22016.283-287

Niman, S. 2019. PENGALAMAN FAMILY CAREGIVERDALAM MERAWAT ANGGOTA KELUARGA YANG MENGALAMI GANGGUAN JIWA. Jurnal Keperawatan Jiwa, 7(1), 19. https://doi.org/10.26714/jkj.7.1.2019.19-26

Reknoningsih, W., Daulima, H. N. C., & Putri, Y. S. E. 2015. PENGALAMAN KELUARGA DALAM MERAWAT PASIEN PASCAPASUNG Pendahuluan Metode Hasil. Jurnal Keperawatan Indonesia, 18(3), 171–180. Retrieved fromhttp://www.jki.ui.ac.id/index.php/jki/article/view/421

Riset Kesehatan Dasar (Riskesdas). 2018. Badan Penelitian dan Pengembangan Kesehatan Kementerian Republik Indonesia. Diakses 10 Maret 2020

Rusnita, R., & Syarifuddin, S. 2019. Dukungan Keluarga pada Klien yang Mengalami Gangguan Jiwa di Wilayah Kerja Puskesmas Ulee Kareng Kota Banda Aceh. Journal of Healthcare Technology and Medicine, 5(1), 118. https://doi.org/10.33143/jhtm.v5i1.338

Setiawan, L. 2018. Studi Fenomenologi : Pengalaman Keluarga Dalam Merawat Anggota Keluarga Yang Mengalami Gangguan Jiwa. Jurnal Kesehatan Mesencephalon, 4(2), 57–66. https://doi.org/10.36053/mesencephalon.v4i2.83

Suhita, Byba, M., U.W, C., Hari, B., & Yusuf, A. 2017. THE ADAPTATION MODEL OF CAREGIVER IN TREATING FAMILY MEMBERS WITH SCHIZOPHRENIA IN KEDIRI EAST JAVA. Jurnal Ners, 12(1), 74–80. Retrieved from http://www.mendeley.com/research/geology-volcanic-history-eruptive-style-yakedake-volcano-group-central-japan/%0Ahttps://doi.org/10.1016/j.actatropica.2019.02.002%0Ahttps://doi.org/10.1016/j.actatropica.2018.07.028%0Ahttp://dx.doi.org/10.1016/j.ijppaw.201

Surahmiyati, S., Yoga, B. H., & Hasanbasri, M. 2017. Dukungan sosial untuk orang dengan gangguan jiwa di daerah miskin : studi di sebuah wilayah puskesmas di Gunungkidul. Berita Kedokteran Masyarakat, 33(8), 403–410.

Suswinarto, D. Y., Andarini, S., & Lestari, R. 2015. Phenomenological Study : Family Experience On And Off Deprivation Stocks On The Mental Disorders Family Experience In The Health Center Area Bantur District Malang East Java. Jurnal Ners Dan Kebidanan (Journal of Ners and Midwifery), 2(2), 176–187. https://doi.org/10.26699/jnk.v2i2.art.p176-187

Vaccari, P., Ramírez-Vielma, R., Saldivia, S., Cova, F., Vielma-Aguilera, A., Victoriano, V., … Grandón, P. 2020. Stigma towards people with a diagnosis of severe mental disorder in primary healthcare centers: perspectives of service users and health teams in Chile. International Journal of Mental Health Systems, 14(1), 6. https://doi.org/10.1186/s13033-020-0340

Varghese, M., Pereira, J., Naik, S., Balaji, M., & Patel, V. 2017. Experiences of stigma and discrimination faced by family caregivers of people with schizophrenia in India. Social Science and Medicine, 178, 66–77. https://doi.org/10.1016/j.socscimed.2017.01.061

WHO. 2019. Mental Disorder [internet]. [diakses 2020 Maret 14]. Tersedia pada: https://www.who.int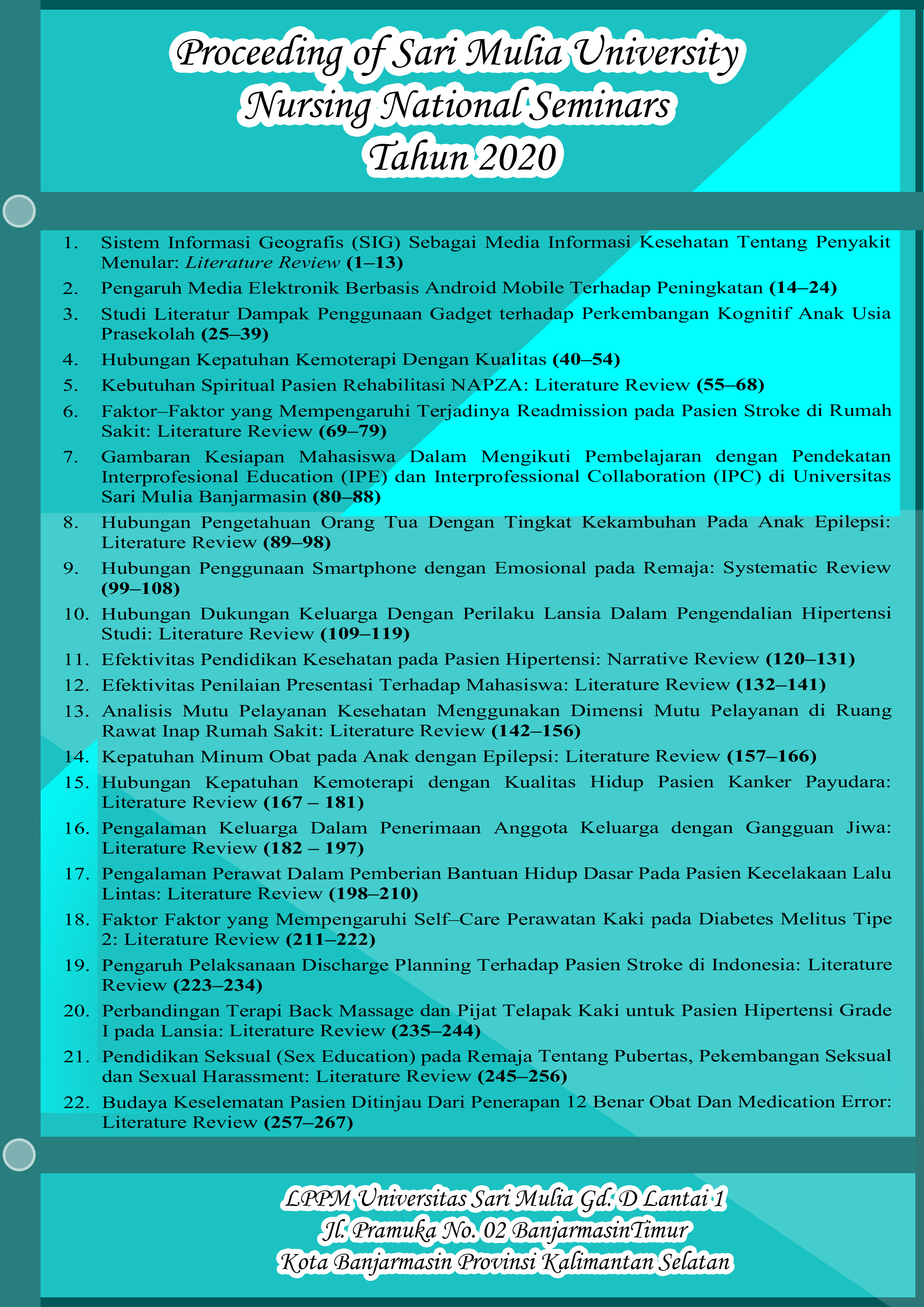 Downloads
License
This work is licensed under a
Creative Commons Attribution-NonCommercial 4.0 International License
.