FAKTOR-FAKTOR YANG MEMPENGARUHI TERJADINYA READMISSION PADA PASIEN STROKE DI RUMAH SAKIT: LITERATURE REVIEW
Keywords:
Hospital, Readmission, Stroke
Abstract
Latar Belakang: Secara global ada sekitar 25,7 juta penderita stroke, 6,5 juta orang meninggal akibat penyakit stroke, 113 juta orang lainnya mengalami kecacatan seumur hidup, dan terdapat 10,3 juta kasus stroke baru, serta banyaknya angka  kejadian stroke yang terjadi di negara berkembang yang terdiri dari 81,0% mengalami stroke dan 75,2% diantaranya terjadi kematian. Readmission merupakan suatu penerimaan baru dirumah sakit yang sama atau yang lain, dalam interval waktu tertentu setelah pasien stroke keluar, readmission dapat disebabkan oleh kualitas perawatan yang kurang baik selama dari awal pasien masuk atau sesudah pasien masuk, yang disebabkan karena perawatan yang tidak lengkap, tidak terselesaikan masalahnya, komunikasi yang tidak memadai, dan koordinasi layanan yang kurang baik seperti perencanaan pulang atau akses keperawatan, karena stroke sering menjai penyebab readmission di rumah sakit, dan readmission setelah stroke. Sehingga penyampaian tentang alasan mengapa readmission terjadi dan membantu untuk mencegah readmission yang sehingga dapat dihindari oleh dokter serta lembaga perawatan kesehatan dalam mengientifikasi pasien yang berisiko tinggi serta melakukan intervensi agar dapat mencegah terjadinya readmission.
Tujuan: Penelitian ini bertujuan untuk mengetahui faktor-faktor yang berhubungan dengan terjadinya readmission pada pasien stroke. Â Â Â Â Â Â Â Â Â Â Â Â Â Â Â Â Â Â Â Â Â Â Â Â Â Â Â Â Â Â Â Â Â Â Â Â Â Â Â Â Â Â  Â Â Â Â Â Â Â Â Â Â Â Â Â Â Â Â Â Â Â Â Â 
Metode: Penelitian ini menggunakan pendekatan Literature review dengan menggunakan 10 jurnal yang menggunakan studi literatur 5 tahun terakhir dan berasarkan kriteria yang telah ditetapkan peneliti.
Hasil: Dari 10 jurnal yang didapatkan dan dilakukan kajian literature faktor yang mempengaruhi terjadinya readmission ialah strok berulang, stroke iskmeik, komorbiitas, jenis kelamin, status sosial, usia, demografis, lamanya rawat inap di rumah sakit,  ekonomi dan infeksi
Kesimpulan: Stroke iskmeik merupakan penyumbang terbanyak dari kasus readmission dan menjadi penyebab yang paling umum yaitu TIA dan keparahan stroke dapat mempengaruhi terjadinya readmission, terjadinya infeksi pada bagian saluran kemih dan pernafasan yang disebabkan karena penggunaan alat bantu makan dan alat bantu pernafasan, adanya komplikasi, usia yang apat mempengaruhi terjadinya readmission terutama pada pada pasien yang lanjut usia dan itu berisiko lebih tinggi terkena readmission setelah 30 hari keluar dari rumah sakit, dan terdapat faktor dari sosial, demografis, komorbiditas, lamanya rawat inap di rumah sakit, dan ada faktor ekonomi.
 
Background: Globally, there are about 25.7 million stroke sufferers, 6.5 million people died from stroke, 113 million other people have life disabilities, and there are 10.3 million new stroke cases, as well as the incidence of stroke occurrences in developing countries which consist of of 81.0% had a stroke and 75.2% of them had death. Readings of new admissions at the same hospital or another, within a certain time interval after the patient is discharged, re-admission can be caused by poor quality of care during the initial admission or after admission, which is due to incomplete, unresolved treatment , inadequate communication, and poor coordination services such as discharge planning or access to nursing, as stroke is a frequent cause of re-admission to hospital, and re-enrollment after stroke. So that it communicates the reasons why readbacks occur and helps to prevent readmissions that doctors and health care institutions can avoid in identifying high-risk patients and intervening to prevent readmissions.
Objective: This study aims to determine the factors associated with the occurrence of readmission in stroke patients.
Method: This study uses a literature review approach using 10 journals that use literature studies for the last 5 years and based on the criteria set by the researcher.
Results: From 10 journals obtained and conducted a literature review, the factors that influence the occurrence of readmissions are repeated strokes, ischemic strokes, comorbidities, sex, social status, age, demographics, length of stay in hospital, economy and infection.
Conclusion: Ischemic stroke is the largest contributor to readmission cases and is the most common cause, namely TIA and stroke severity can affect the readmission, the occurrence of infections in the urinary and respiratory tracts caused by the use of eating aids and breathing aids, complications, age can be reached. affect the occurrence of readmission, especially in elderly patients and it is at higher risk of getting a readmission after 30 days of discharge from the hospital, and there are factors from social, demographic, comorbidity, length of stay in hospital, and there are economic factors.
References
Alexandra Leitão , Anabela Brito , João Pinho , José Nuno Alves , Ricardo Costa , José Manuel Amorim , Manuel Ribeiro , Inês Pinho , Carla Ferreira. 2016. Predictors Of Hospital Readmission 1 Year After Ischemic Stroke. Tersedia pada : https://www.sciencedirect.com/science/article/pii/S0929664611000271 [Diakses 1 Juli 2020]

Anna Therese Bjerkreim , Halvor Naess , Andrej Netland Khanevski , Lars Thomassen , Ulrike Waje-Andreassen , Nicola Logallo. 2019. One-Year Versus Five-Year Hospital Readmission After Ischemic Stroke And TIA. Tersedia pada : https://pubmed.ncbi.nlm.nih.gov/30696407/ [ Diakses 25 Juni 2020]

Amre M. Nouh, Lauren McCormick, Janhavi Modak, Gilbert Fortunato, Ilene Staff. 2017. High Mortality Among 30-Day Readmission After Stroke: Predictors And Etiologies Of Readmission. Tersedia pada https://pubmed.ncbi.nlm.nih.gov/29270149/ [Diakses 26 Juni 2020]

Atsushi Hirayama , Tadahiro Goto , Mohammad K Faridi , Carlos A Camargo Jr , Kohei Hasegawa. 2018. Age-Related Differences In The Rate And Diagnosis Of 30-Day Readmission After Hospitalization For Acute Ischemic Stroke. https://journals.sagepub.com/doi/abs/10.1177/1747493018772790?journalCode=wsoa Tersedia pada : [Diakses 28 Juni 2020]

Cheng-Yang Hsieh , Huey-Juan Lin , Ya-Han Hu , Sheng-Feng Sung. 2017. Stroke Severity May Predict Causes Of Readmission Within One Year In Patients With first Ischemic Stroke Event. Tersedia pada : www.el sevier.com/l oca te/ jns [Diakses 25 Juni 2020]

Den-Ching A Lee , Cylie Williams , Aislinn F Lalor , Ted Brown , Terry P Haines. 2018. Hospital readmission risks in older adults following inpatient subacute care: A six-month follow-up study. Tersedia pada : www.elsevier.com/locate/archger [diakses 28 Juni 2020]

Dennis T. Ko, Rohan Khera, Geoffrey Lau, Feng Qiu, Yongfei Wang, Peter C. Austin, Maria Koh, Zhenqiu Lin, Douglas S. Lee, Harindra C. Wijeysundera and Harlan M. Krumholz. 2020. Readmission and Mortality After Hospitalization for Myocardial Infarction and Heart Failure. Terseia pada : https://www.sciencedirect.com/science/article/abs/pii/S0735109719387637 [Diakses 1 Juli 2020]

Dhaval Kolte, Sahil Khera, M. Rizwan Sardar, Neil Gheewala, Tanush Gupta,Saurav Chatterjee, Andrew Goldsweig, Wilbert S. Aronow, Gregg C. Fonarow, Deepak L. Bhatt, Adam B. Greenbaum, Paul C. Gordon, Barry Sharaf, J. Dawn Abbott. . 2016. Thirty-Day readmissions after transcathteter aoric valve replacement in the united state insights from the nationwide readmission database: cardiovaskuler Interventions. Vo. 10, No.1. Tersedia pada: https://www.ahajournals.org/doi/full/10.1161/circinterventions.116.004472 [ Diakses 15 Januari 2020 ]

Diah Mutiarasari. 2019. Ischemic Stroke: Symptoms, Risk Factors, And Prevention: Jurnal Ilmiah Keperawatan. Vol. 6, No. 1. Tersedia pada : http://jurnal.untad.ac.id/jurnal/index.php/MedikaTadulako/article/view/12337/9621 [ Diakses 5 Januari 2020 ]

Dmitry Ponomarev , Claire Miller , Lindsay Govan , Caroline Haig , Olivia Wu , Peter Langhorne. 2015. Complications Following Incident Stroke Resulting In Readmissions: An Analysis Of Data From Three Scottish Health Surveys. Tersedia pada : https://pubmed.ncbi.nlm.nih.gov/24206656/ [ Diakses 28 Juni 2020]

Elizabeth Levitzky, PhD, MBA, Asha Buehler, MPH Candidate, Tina Patel Gunaldo, PhD, DPT, MHS, Susanne Straif-Bourgeois, PhD, MPH. 2018. Descriptive Studi Of 30-Day Hospital Readmissions For Person 65 And Older In Louisiana 2011-2014: Journal Of The Louisiana State Medical Society. Vol. 170, No. 5. Tersedia pada : https://sph.lsuhsc.edu/wp-content/uploads/2018/12/30-Day-Hospital-Readmissions-E.Levitzky-2.pdf [ Diakses 9 Maret 2020 ]

Gitta Rohweder, Øyvind Salvesen, Hanne Ellekjær, Bent Indredavik. 2017. Hospital Readmission Within 10 Years Post Stroke: Frequency, Type And Timing. Tersedia pada : https://www.ncbi.nlm.nih.gov/pmc/articles/PMC5477341/#:~:text=After%2010%20years%2C%2068.9%25%20of,10%20years%20of%20follow%2Dup. [ Diakses 26 Juni 2020 ]

Hospital Compare. 2018. 30-day unplanned readmission and death measures: The Official U. S. Govermment Site for Medica. Tersedia pada : https://www.medicare.gov/hospitalcompare/Data/30-day-measures.html [ Diakses 19 Maret 2020 ]

Ivana, P. D and Rizalsy, T. P. 2016. Stroke In Asia. Resensi Buku. Fakultas kedokteran universitas Kristen duta wacana: 02(01). Tersedia pada : https://bikdw.ukdw.ac.id/index.php/bikdw/article/view/44/39 [ Diakses 16 Desember 2019]

James Lewsey, Osaretin Ebueku, Pardeep S Jhund, Michelle Gillies, Jim WT Chalmers, Adam Redpath, Andrew Briggs, Matthew Walters, Peter Langhorne, Simon Capewell, John JV McMurray, Kate MacIntyre. 2015. Temporal trends and risk factors for readmission for infections, gastrointestinal and immobility complications after an incident hospitalisation for stroke in Scotland between 1997 and 2005. Tersedia pada : https://www.ncbi.nlm.nih.gov/pmc/articles/PMC4320501/ [ Diakses 27 Juni 2020 ]

Kun Yang Chuang, Shwu Chong Wu, Ai Hsuan Sandra Ma, Yu Hui Chen, Chen Long Wu. 2015. Identifying Fators Associated With Hospital Teadmissions Among Stroke Patients In Taipe: Journal of nursing research. Vol. 13, No. 2. Tersedia pada : https://www.ncbi.nlm.nih.gov/pubmed/15986313 [ Diakses 24 januari 2020 ]

Nanda. 2016. Asuhan Keperawatan Praktis. Beradsarkan Penerepan Diagnosa Nanda, NIC, NOC Dalam Berbagai Kasu: Media Action. Edisi Jilid 2. Hal. 260-261.

Sara Fernandes-Taylor , Stephen Berg , Rebecca Gunter , Kyla Bennett , Maureen A Smith , Paul J Rathouz , Caprice C Greenberg , K Craig Kent. 2018. Thirty-Day Readmission And Mortality Among Medicare Beneficiaries Discharged To Skilled Nursing Facilities After Vascular Surgery. Tersedia pada : www.JournalofSurgicalResearch.com [Diakses 28 Juni 2020]

Tiancai Wen, Baoyan Liu, Xia Wan, Xiaoping Zhang, Jin Zhang, Xuezhong Zhou, Alexander Y. L. Lau & Yanning Zhang. 2018. Risk Factors Associated With 31-Day Unplanned Readmission In 50,912 Discharge Patients After Stroke In China: BMC Neurology. 18:218. Tersedia Pada : https://doi.org/10.1186/s12883-018-1209-y [ Diakses 2 April 2020 ]

Washington State Department of Health. 2019. State Of Washingtone Prehospital Stroke Triage Destination Procedure: Washington State Department Of Health. Tersedia pada : https://www.doh.wa.gov/Portals/1/Documents/Pubs/530182.pdf [ Diakses 3 Desember 2019 ]

WHO. 2016. Stroke: a Global Response is Needed. France: World Health Organization. Tersedia pada : https://www.who.int/bulletin/volumes/94/9/16-181636.pdf [ Diakses 18 Desember 2019]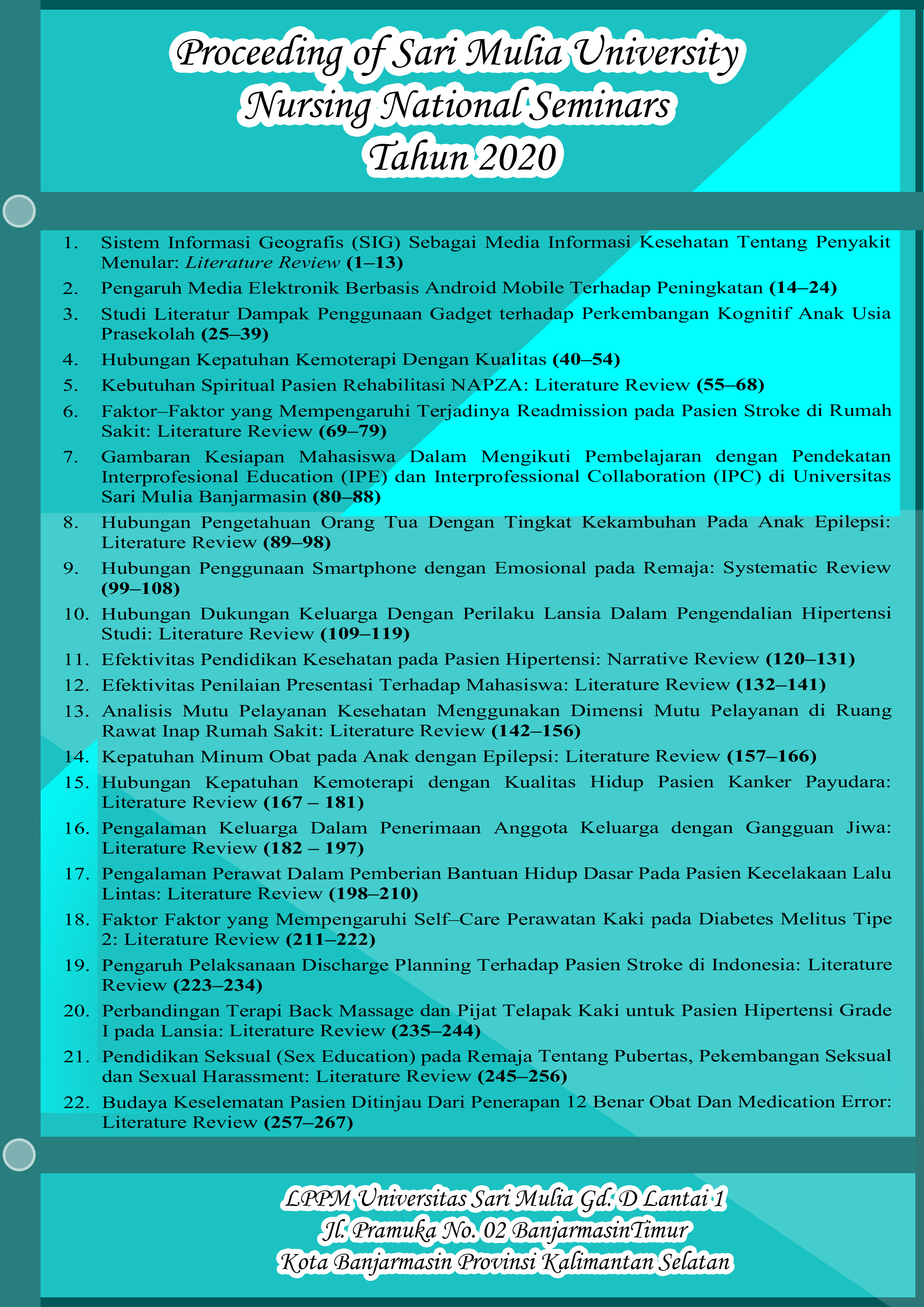 Downloads
License
This work is licensed under a
Creative Commons Attribution-NonCommercial 4.0 International License
.